The beauty and health industries always seem to have the answer to the latest and greatest products, touting highly effective uses.  It can seem like a rather daunting task to just keep up with these trends, without even knowing what ingredients these products contain and whether or not we know anything about them.  
Let's talk about the popular, but time-tested hemp lotion, so you have the info to decide for yourself if it's a good fit for your own beauty and wellness regimen!
Hemp is likely not an ingredient that many associate with beauty or skincare products.  
Perhaps better known to the masses as a nutritious edible, the use of hemp and hemp seed oil when it comes to being a topically applied product is actually just as beneficial.  
While it does belong to the same family of plants as other cannabis sativa products such as CBD, hemp seed oil does not have any CBD nor the psychoactive component THC in it, and it's known rather for its herbal remedy effects.  
Many of the most sought after and desired nutrients for skincare are naturally occurring components of the hemp plant and its byproducts. Taking a look at this list of super vitamins and minerals, it is no wonder why hemp has been regarded as a useful ingredient for ages. 
Vitamin E:

 One of the most common vitamins often found in skincare products, vitamin E, cannot be naturally produced within the human body so it must be obtained from foods and other products. As an antioxidant, it protects the skin from free radicals, which are a result of daily environmental stressors like unprotected sun exposure and air pollution.  When combined with vitamin C, the partnership formed can be extremely effective in supporting and promoting healthy skin.   

Vitamin C:

  Another vitamin that is not naturally produced by the body, you typically get your intake from food such as the notorious vitamin C-abundant citrus fruits.  When used as a topical treatment to the skin, it can offer amazing results.  Evening out pigmented skin tone, promoting collagen to reduce the appearance of fine lines and wrinkles, as well as protecting the skin from damaging free radicals are all benefits you can reap.  Hemp is a naturally occurring source of this potent vitamin, just making the case even stronger as to why hemp and hemp seed oil are ideal ingredients for facial lotions.  

Omega 3 and Omega 6 Fatty Acids

: Known for their abilities to provide ultra hydration, these well-paired fatty acids also bolster your skin's suppleness and help it maintain its normal functions and appearance.  Since these acids can only be supplied via ingestion of foods such as fish, nuts and grains, consuming enough is imperative to maintaining healthy skin.  The protective acids also work to protect the skin from damaging free radicals, much like Vitamin E.  

Linoleic and oleic acids

: These acids are actually what are found in Omega 3 and 6 fatty acids.  What makes them so important?  They act as powerful soothers while simultaneously encouraging skin growth and new cell generation.  Additionally, they provide amino acids, which promote the production of collagen and elasticity to the skin. 

Calcium

: Key in aiding in the regeneration of skin cells for a healthier complexion, calcium keeps the skin hydrated and minimizes the appearance of fine lines.  Without this important mineral, the skin can become dry and prone to irritation. 

Iron

: The job of iron when it comes to skincare is to even out skin color and tone by reducing the appearance of discoloration.

Zinc

:  As an antioxidant, zinc is essential in maintaining overall skin health.  It's also a useful soothing agent that is perfect when it comes to the appearance of scarring.   

Manganese

: This mineral is crucial to maintaining the balance of your skin.  If there is a wound, the job of manganese is to aid in the body's natural healing process and provide much-needed collagen to the problem area.

Potassium

:  A large supporting role in how hemp maintains and locks moisture in is in part, potassium.  It is a mineral whose job is to maintain hydration and is therefore a big part of what makes hemp seed lotion products such a reliable source of moisturizing power. 
The true beauty of hemp seed oil-based lotions?  Hemp itself has all of these powerful ingredients within it, making it an ideal base or additive in any type of lotion for healthy skin.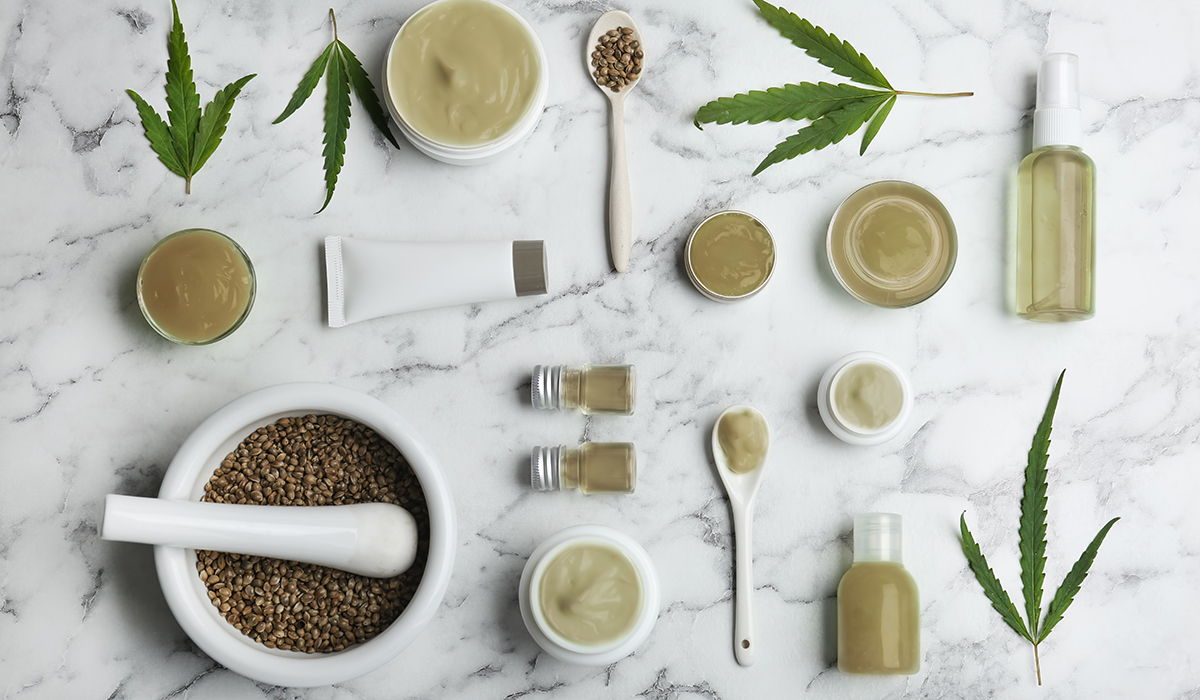 While ideal for skin care products in general, there are many products out there that can contain hemp seed oil.  The variety of purposes is not limited to purely facial creams, but a myriad of other uses. 
With the numerous uses of hemp in beauty and skincare products, it should no longer come as a surprise as to why it is considered a beneficial additive.  
If our ancestors knew to harness hemp's goodness for the last 3,000 years, there has to be some validity to what it is known to do.  It is a challenging concept that a plant which is essentially a weed can contain so many vital nutrients and vitamins.  Nature has a way of surprising us, but in order to embrace the long-known benefits of hemp lotion, the understanding of why and how it helps must be there.  
At the core of it, this plant's seed oil is a moisturizing agent, able to provide a substantial and efficient dose of hydration to the skin when used in a topically applied lotion format.  It is not the habit-forming or high inducing product it is oftentimes mistaken for.  
Hemp lotions and products have their own unique benefits which should be better understood as to be better represented in the beauty industry as a whole.  It can and is a wonderful resource that provides so much in such a seemingly simplistic plant.  The introduction of modern science to the skin and beauty industry has truly allowed for the formulation of products that work to get the most out of all of the organic goodness that hemp has to offer.  
So the question should now be fully answered that indeed, hemp lotion is a highly effective and useful product to use for any of your moisturizing needs, with just as much hydrating benefit as other ingredients you're familiar with such as aloe vera or shea butter. 
One of the bonus benefits of hemp lotion?  It is a sustainable resource that is easy to grow, requires little to no pesticides, and can be used for nearly every component of the plant.  Many hemp products can proudly call themselves organic for that very reason.  Now that is truly a sign of a versatile resource. With the way in which the world is rapidly populating and the planet is getting more and more polluted, the more sustainable and resourceful people need to be in order to assure our long term survival.  Hemp should be embraced and used by all for that sheer fact alone, as not many others can share the same sentiment.  
Hemp is a much overlooked and under-appreciated plant that can improve lives in so many various ways, starting with products as simple and easy to use as hemp lotion!